17th May 2023

We're delighted to confirm that Yeovil Town supporters can now purchase season tickets for the 2023/24 season.
This season, supporters can enjoy discounted tickets with our brand new 'Early Bird' pricing, which is available until Friday 16th June.
Overall this season is a discount on last season's pricing, with adult season ticket holders saving the equivalent SEVEN free tickets against match day pricing. It's not just adult supporters who receive a heavy discount, junior supporters will enjoy a total of NINE free fixtures in comparison to the match ticket price. The full season ticket price table can be viewed below.
Existing season ticket holders will have their season tickets held until the 'Early Bird' deadline. After this, those seats will be released onto general sale.
Ahead of next season, we can confirm that match ticket pricing will also be reduced. From next season, adult supporters who purchase in advance (prior to midday on match day) can attend National League South fixtures at Huish Park for just £16.00. Young person's (16-21) can join us for £10.00 if bought in advance, senior/military tickets can be bought in advance for £14.00. Tickets purchased after midday on the day of the fixture will be subject to a £2.00 surcharge.
All youth tickets are available at the same price, no matter if in advance of a match day; under-12's can join us next season for £3.00 a game whilst junior tickets (under 16) can be bought for £5.00.
With the ownership of the football club under local businessman Martin Hellier now confirmed, there's no better time to support your local community football club as we venture into the National League South.
Season Ticket Prices: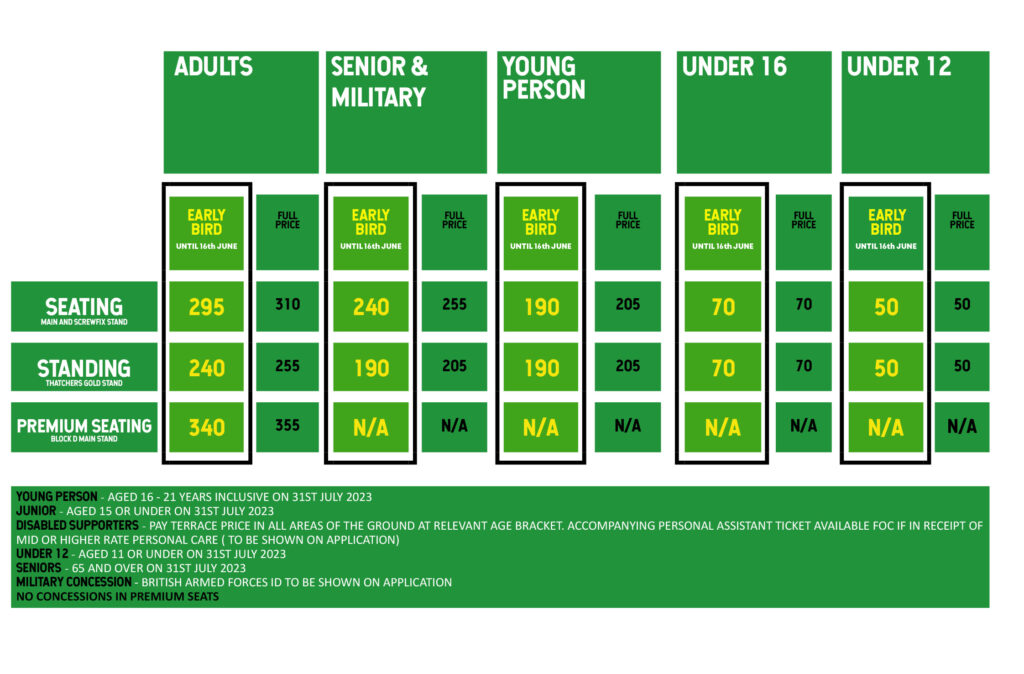 How to buy:
New season ticket holders –
To purchase, visit the ticketing website site, linked below.
https://mpv.tickets.com/schedule/?agency=YTMS_MPV&orgid=52167#/
Once on the site, select the area of the ground and the ticket type required.
To purchase, please then login to your existing account (if you've bought any tickets with us before) or set up a new account and then checkout and pay.
Renewals –
To renew your season ticket, please visit:
https://mpv.tickets.com/schedule/?agency=YTMS_MPV&orgid=52167#/
Login (three lines top right of screen, then select login), to your existing season ticket account.
Once logged in, please select 'Renew/make payments' from the menu. Ensure you check your ticket details and proceed to checkout to pay and renew.
If the season ticket is not showing then the season ticket account and online may be different – contact ticketoffice@ytfc.net for assistance.
If supporters wish to amend their ticket details or contact details, please email ticketoffice@ytfc.net.
Season ticket form
Supporters can also purchase a season ticket by filling out the form linked below – and posting or dropping off to Huish Park.